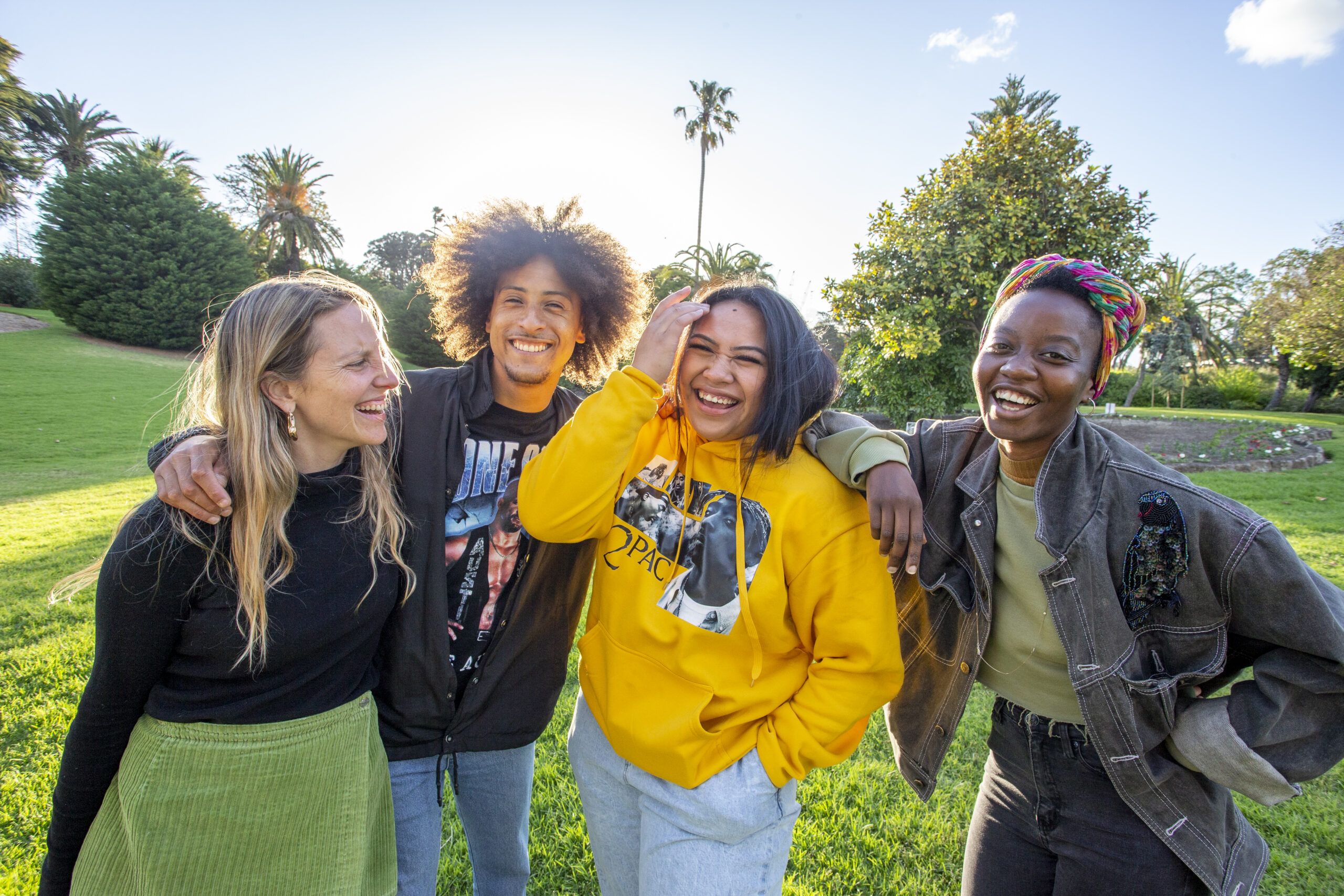 LOOKING BACK ON A YEAR OF CHANGE AND GROWTH FOR WEYA
Hello from the summer break!
The end of the year is always an opportunity to reflect and with my dear co-partner Tariro having wrapped up just a few weeks ago, finding time to pause, reflect and honour the incredible resilience of our community has never felt more important than in 2021.
First, the challenges.
In Melbourne we endured Lockdowns 3, 4, 5, and 6, which for us as a performing arts company meant postponing, pivoting, re-planning and at times saying goodbye to works and projects altogether. It was in many ways more difficult than the dreaded 2020, with our participants, artists and staff experiencing high levels of Zoom fatigue; restrictions constantly changing; vaccination communication and mandates impacting our young artists and communities; and of course a new COVID variant arriving in the country just as we were all hoping to ease into the holidays with some level of certainty.
WEYA is an incredibly responsive company built on trust, conversation and nuance, so with each of these challenges we listened deeply to what our young people were telling us and adapted our programming accordingly. I am so proud and grateful to say that no matter what setbacks came their way, the WEYA participants, artists, staff, stakeholders and Board all showed immense patience and kindness in navigating through the confusion, angst and isolation together.
And while the world is yet again feeling unpredictable, one thing I am certain of is that we will continue to listen, adapt, and move through the new year with the same level of care and commitment to young artists from Melbourne's West as we have e through all the challenges of 2021.
Now, the art!
Some of our 2021 programs pivoted online
Our Out West Community Youth Theatre program switched from large scale in-person events to half-day jam sessions on Zoom complete with visual art exercises, freestyle rap collaborations, digital improvisations and Uber Eats delivered to everyone's doors. Out West was produced by Amarachi Okorom, marking a wonderful journey for her from participant to Support Artist to Creative Producer, and showing the tangible pathways our programming creates for young artists in Melbourne's West to leadership positions within the company.
Also pivoting online was our creative development of Lele, Butterfly, an all-Pacific Islander adaptation of the Greek tragedy, Antigone. Over 6 weeks, Rexson Pelman, Chanella Macri and Michael Logo worked together on Zoom to beautifully reimagine this work, first created by WEYA's Footscray Edge in 2018. The creative development culminated in an online Zoom reading, featuring WEYA actors Sina and Ione Brown and Tiernyn Taula, and was witnessed by members of the Samoan and Pacific Islander community, industry peers and WEYA staff and artists.
Lele, Butterfly will premiere at The Bowery Theatre as part of Neighbourhood Festival in November 2022, and I'd like to thank Brimbank City Council for its support in the creative development and premiere of this powerful new Australian work.
Our Up Next Masterclass series continued both in person and online again this year – with some artists adapting their masterclasses online while others preferred to wait until the restrictions had eased. A positive from online masterclasses we discovered this year was the large intake of interest from young artists across the world who had heard about the Up Next series and asked if they could join the Zoom masterclass. This was really exciting for the young WEYA artists to meet international like-minded artists, and is something we will take with us moving forward as we continue to dream up future programs and collaborations in this new digital world.
Some of our programs were postponed
Our new Collective-In-Training were working on a showcase piece to share with community at The Bowery Theatre that will now be held in March 2022. The premiere screening of the Sub30 Collective's feature film they created in lockdown in 2020, The Retreat, has been moved to February 2022 where it will play at the Wyndham Cultural Centre. We'll be in touch in January with more information around these events. They will be real highlights of the WEYA calendar year!
Some programs were reimagined
Our film project with Glenroy College, Transforming Text, was disrupted by Lockdown 4 and when we went into Lockdown 5 we decided to put the program on hold rather than pivot to a digital outcome. The students, teachers and WEYA artists decided that more important that a rushed online outcome were the Year 9 English students being able to work with our artists in real life, so we waited until we were finally able to be back on school grounds in November to finish the program with a series of in-person physical theatre workshops.
The importance of the students being back in the room with the WEYA artists after months of isolation cannot be underestimated, with one student reporting that they "felt happy again", another saying they "felt seen and heard" and another stating simply: "I felt free".
I thank Lead Artist Didem Caia who ran this program with such grace and care in very difficult circumstances, and Support Artists Damian Seddon, Michael Logo, Leigh Lule, Jack Sheppard, Betiel Beyin and Yaw Dadzie – what a dream team!
Another program that we had to reimagine this year was the mainstage residency that we had been working on for 3 years with Malthouse Theatre, whereby the Sub30 Collective would devise and perform a new work as company-in-residence. Sub30 had been working with Sapidah Kian to create an original new work "I'll Get Back to You Yesterday" since April. During Lockdowns 4, 5 and 6, the collective continued to devise with Sapidah online, however as the restrictions continued into October and November the collective decided to cancel the show as there was not enough time to rehearse in person and take and do the work credit.
I am incredibly proud of this group of young artists who prioritised their health and wellbeing over an artistic outcome, and instead opened up discussions around what this partnership with Malthouse could look like for them as emerging artists, if not the production of a theatrical work. Together, we decided on a 'graduation pack' for the six Sub30 members – including showreels, headshots, Showcast subscriptions, industry mentors and a showcase event to be held at The Beckett Theatre in February 2022, where all six Sub30 members will perform monologues and scene work for community, industry professionals and WEYA supporters.
Hopefully I will see you there as we applaud these six brilliant young artists who have been training for 2 years in and out of lockdowns to hone their craft as performers, writers, directors and producers and are now more than ready to take their place in the arts sector as creatives to watch and listen out for.
New WEYA offices and other developments
Beyond the programs there have been other major changes for WEYA too – we began the year looking for a new home base that would cater to our growing team and allow our artists to have access to rehearsal and workshop space. In the meantime we were generously housed by The Idea Collective in Footscray and Newsboys Foundation in South Melbourne, and I thank both of these organisations for opening their doors to us while we assembled our team and made plans for the future.
I am thrilled to say that as of January 2022 we will be company in residence at The Substation in Newport, one of the country's most innovative contemporary arts venues, where WEYA artists will be able to meet and network with an array of creatives and arts organisations and have access to state of the art rehearsal space.
It was a year where we began trialling bespoke workshops for schools, universities, arts organisations, local councils and the corporate sector, in a range of different topics including 'Diversity and Cultural Safety'; 'No "I" in Improvisation'; and adapting Shakespeare and other curriculum texts classics to engage students in English and Drama. These workshops were highly successful and as such we will be expanding our offering of workshops to the education, arts and corporate sector in 2022. More details to come in the new year!
It was also a year that Tariro and I learned how to grow a core team, and I am delighted to say that in 2022 WEYA will have expanded its core staff from 3 to 7 in just two years, thanks to Australia Council for the Arts organisational funding.  This includes the company's first ever Development Manager, Marketing Manager and Operations Coordinator. It also includes two new co-Artistic Directors, who will be recruited in early 2022.
Farewell to Tariro
And finally, as you know, it was the year my co-Artistic Director/ co-CEO and ride or die partner in crime, Tariro Mavondo, decided to leave WEYA and move onto her next beautiful adventure. I am so proud of this partnership – in two years we have secured major multi-year funding agreements with government and philanthropic partners; grown the core team; secured a new homebase at the Substation; kept artists across the company employed and participants across the West connected during a global pandemic; worked alongside WEYA artists to create and facilitate over 13 new works and programs both online and in person; expanded WEYA's reach and advocacy through joining networks and alliances nationally and internationally and brought on key partners to help guide the company into its next phase of growth.
When we began as co-Artistic Directors in 2019, we outlined an ambitious strategic plan that was centred around our vision for a thriving community of next generation cultural and artistic leaders borne out of Melbourne's West. I am really proud to say that 2 years later this vision is already in motion. WEYA artists are representing the West on stage and screen across the city and country and inspiring younger artists in schools and communities across the West to step into their power and trust their voice as the future leaders and storytellers of tomorrow.
I thank Tariro, from the bottom of my heart, for everything she has done for WEYA in the past two incredibly challenging and defining years. Tariro is an artist and leader of integrity, passion, intellect, humour and spirit – everything she commits herself to is enriched my her attention to detail and drive to make it the best it can be for those who need it most. It is difficult to put into words how much this partnership has meant to us both, and I hope that in WEYA's long and glorious history, there will be a page or two for these past two years. Together with the WEYA artists and young people, our partners and supporters, we collectively dreamed of a future where WEYA could be an example to others that lateral leadership is possible, intersectional practice is essential, and joy, care and love can and must be at the core of an organisation's values and principals.
There are so many exciting opportunities, events and developments that we have been seeding over the the past two years that will be coming into fruition in 2022, as well as visionary and world-building conversations and artistic explorations that will be led by WEYA's young collaborators and artists. I can't wait to invite you along to listen in to what they have to say.
Until then, I am wishing you a safe, peaceful and nourishing holiday season, and hoping you too can find some time to reflect amidst the chaos of the year's end.
With care,
Penny
Penny Harpham, Co-CEO / Co-Artistic Director at WEYA