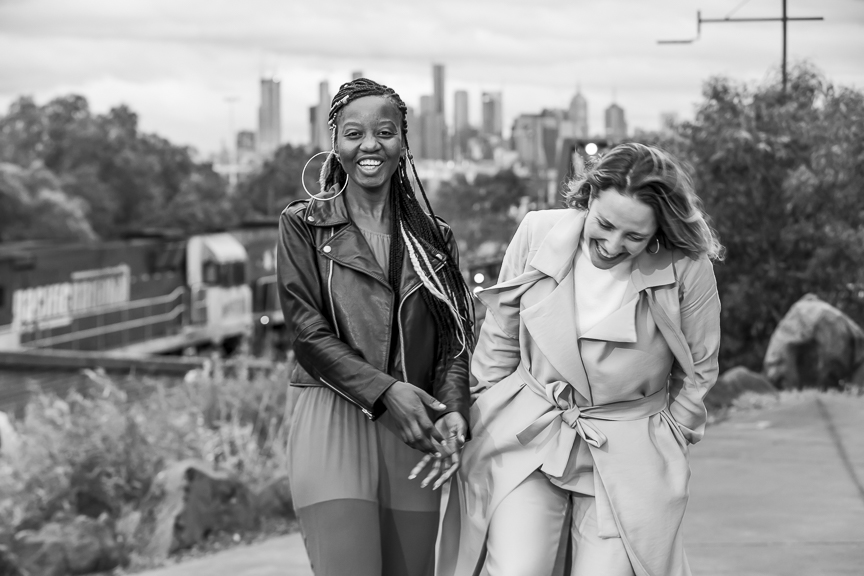 REFLECTIONS AND FAREWELL FROM TARIRO
HINDSIGHT IS A MIRACULOUS THING
If an older version of myself had told the me of three years ago, I would be co-steering a performing arts company with brilliant artists in the western suburbs of Narrm (Melbourne), largely during a global pandemic, mostly in lockdown and that company was going to not just survive but thrive in a period of constant flux and instability I would have laughed in disbelief. But here we are.
Unequivocal fulfilment is also a miraculous thing. 
My 11 year career as an artist feels like it all culminated in these last two years at WEYA where I could use all I have in my toolkit and learn new skills. What a gift it has been to have set up creative roots in a place, to have been welcomed with wide arms and open hearts and to have been embraced with such generosity of spirit by WEYA young artists.
It is you who I would like to thank first.
You are the WEYA magic. I have learnt how to be the best version of a leader I can be through your example. You have taught me the power of the collective and that community should be prioritised first and always. You taught me what creative bravery looks like in action through your rigour, hunger and willingness to lean into the difficult conversations and to get to the core of things always with care and accountability for yourself and for others. You have taught me patience, forgiveness and grace by allowing me to make mistakes and to fail while standing up. You have cheered me on and applauded my growth as a leader every step of the way. You have taught me humour is resilience and subversive and powerful which makes you such excellent makers. Witnessing how you take others along with you when you succeed has renewed hope in me.
To the Lead and Support Artists, the Board, the Core Team
What WEYA has grown into these last two years has not just been Penny and my vision, it has been our collective imagining of worlds and possibilities alongside young artists and community. Penny and I knew our leadership had to be about leading from behind.
That what a company could look like had to come from the approach to practice that was happening organically in WEYA rooms led directly from young people. That the rest of the company had to mirror the methodologies and philosophies coming straight from the voices of young people. To breathe spirit into ways of working that make space for different cultural understandings of time, that allows power to be shared and constantly in motion and enables art to continuously be re-contextualised and expanded. And we did that. Together.
To WEYA's funders, school, community and industry partners and supporters
Thank you for your genuine excitement that Penny and I felt when were first appointed co-Artistic Directors and ever since. This small to medium sized arts company has grown in quantum proportions because of you. Over the last two years we really learnt that in the art sector that we cannot be in silos that we are too vulnerable. That it is necessary for us to move as a cohesive ecosystem working in genuine collaboration with one another to survive. That this is where our strength lies.
To my co-Artistic Director/CEO
Thank you for it all, to think we hadn't known each other three years ago seems baffling to me. The recipe was right- right people in the right company at the right time.
From seeing students meet their inner geniuses and observe personal growths, and school cultures transform as the direct and indirect result of WEYA programs;
to receiving four year Australia Council organisational funding for the first time,
to witnessing WEYA artists be attached to prominent creative work nationally and internationally,
to receiving calls from formal and informal mentors checking up on first time co-Artistic Director's/CEOs,
to observing the beautiful acknowledgements in language that WEYA Artists weave into their creative work to receiving support for WEYA's first pilot three year training program through Ian Potter,
to being blown away by the tireless efforts of WEYA producers, stage managers creatives and the core team working, around the clock at times, to submit a grant,
to being at a major performing arts venue where artists have decolonised Q&A sessions,
to shooting a hybrid theatre/film feature length work during a pandemic in two days,
I am full, thankful and tired. 
I say goodbye to WEYA knowing the incoming Artistic Directors will continue the company's beautiful trajectory adding their imprints that will live beyond their time in the organisation.
I find myself yet again in a new place being pulled into a new direction stepping into a new chapter in life.
I hope our paths will cross again.
The artists in me bows to the artist in you.
Tariro Movondo