A Samoan

-Australian

story of

family,

tragedy

and healing
A Samoan-Australian family are torn apart by a brutal killing that sets off a tragic series of events. The Sa'o makes a decision that rocks the aiga, a young woman disobeys her fiancé and in-laws, and brothers struggle with what being a 'man' means here and now.
Lele is a fictional story based on the all too frequent realities of Pasifika immigrant life in Australia. Exploring the clash between traditional and modern life, and the different generational experiences, it looks at gang culture and violence, the rise of drill rap and the traditions and customs we grew up with.
How can we heal as a community, and keep challenging the cycles of oppression and violence that have become part of our everyday lives?
Samoae, usi le maimoa ma le tou silasila.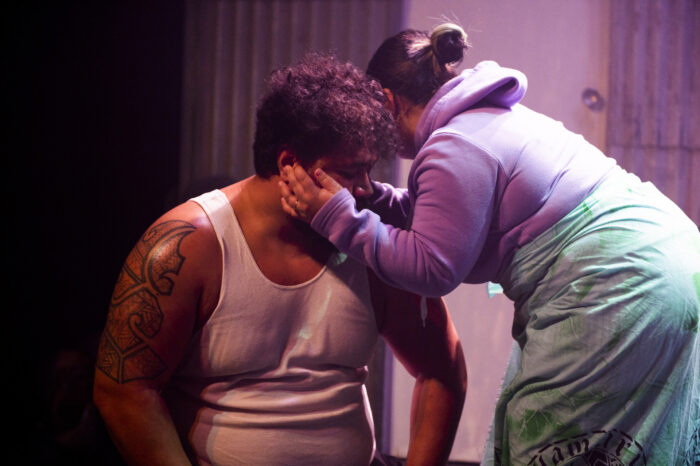 Acknowledgements 
Lele is supported by Wyndham City Council, Brimbank City Council and Neighbourhood Festival.
We thank:
The wisdom, guidance and supreme generosity of our community and elders in the development and making of this work –

Sagaga Uatasi,

Grace Valinau,

Ite Mauga,

James Mafiti,

Delsa Tuitea

 

and many more.

Western Edge's 2018 Footscray Edge who devised and performed

Lele, Butterfly

of which

Lele

is a re-imagining. Our work would not exist without theirs.

Penny Harpham who directed and documented

Lele, Butterfly

in 2018 and ensured its re-development and future life.

Siena Balakhrisnan and The Bowery Theatre of Creative Brimbank for championing and supporting the creation of

Lele

in 2021 and who were our partners in presenting its premiere season for the Neighbourhood Festival in 2022.

 
Creative Team 
Co-Creators: Michael Logo, Chanella Macri, Rexson Pelman
Actors: Ioane Ale-Brown, Sina Ale-Brown, Elijah Logo, Michael Logo, Chanella Macri, Rexson Pelman
Understudies: Saga Fesolai, Rex Letoa Paget, Giordano Macri
Production Manager / Assistant Stage Manager: Reis Low
Stage Manager: Stephanie Lee
Sound Designer: Rexson Pelman
Set/Costume Designer: Filipe Filihia
Lighting Designer: Jasmine Duff
Set, Props and Costume Assistant: Taylor Amakia Tiauli
Tech Director: Chanella Macri
Cultural Consultants: Sagagauatasi, Grace Vanilau, Ite Mauga, James Mafiti, Delsa Tuitea
Translators: James Mafiti with Ioane Ale-Brown, Sina Ale-Brown, Elijah Logo, Michael Logo 
Access
Wyndham Cultural Centre is a wheelchair accessible venue. Our June 22 show is an Auslan interpreted performance.