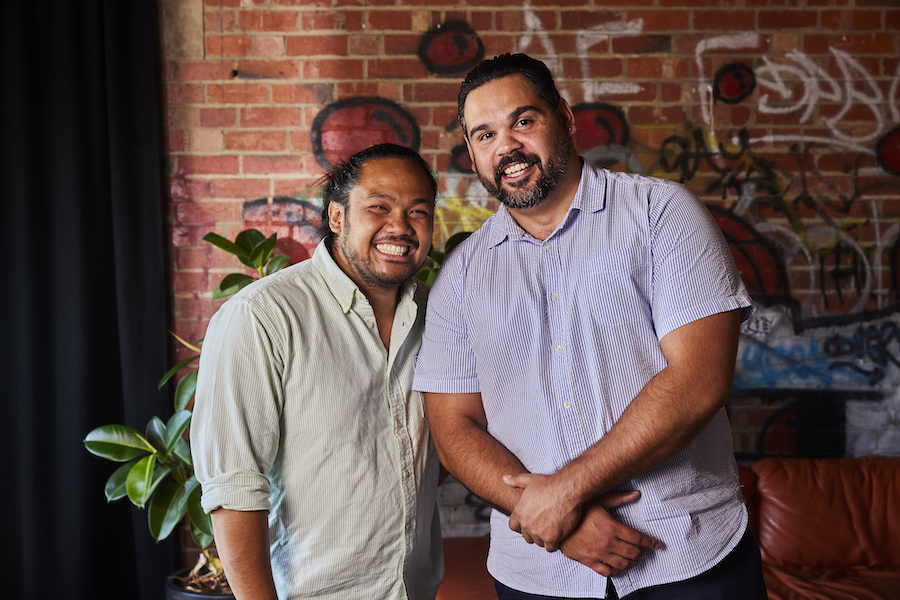 Introducing Western Edge's two new co-Artistic Directors
After two years of massive growth and industry challenges, we are delighted to announce the appointment of Western Edge's two new co-Artistic Directors,  Robert Young and John Marc Desengano.
Robert and John Marc bring different artistic practices to the company. Not only do they have the complementary skills and experience to bring new breadth and depth of artistic practice to our artists, but they also both have a deep respect and understanding of the power and importance of art in cultural expression and identity.
Robert Young
Robert is a Gunnai, Waradjurie, Yorta Yorta, Gunditjumara visual artist who has years of experience working in community, with young people, on television and for the corporate sector. He is the first First People's artist to design sportswear for PUMA and the AFL and was recently commissioned to create the evocative and historic mural on Charcoal Lane. Robert brings with him new artistic practices and networks that will expand the company's artistic offerings and a connection to community and culture that will deepen Western Edge's practice as young people from the West become more grounded in the history and knowledge of First People's traditions and stories. Along with expanding our scope of artistic practice, Robert hopes to inspire young artists to not just connect with First Nations culture but to celebrate their own cultures.
"We've been taught to shy away from who we are, from our identity. I want to show our artists that you can be proud. You can say this is where I'm from, this is where my family is from. That's what we'll be doing in this space. Connecting with First Nations culture and community, and celebrating each artists own cultural heritage, to inspire them to step into their destiny and sovereignty, as leaders and artists". Robert Young.
John Marc Desengano
John Marc is Philanpino/Australian actor, improviser and educator who has been a Lead Artist for Western Edge since 2019. During that time he has lit up the company with his ethos of 'happy failure', 'we all shine' and 'there is no I in improvisation'. His energy and enthusiasm have been instrumental in keeping our community of artists and young people connected in the past two years of isolation, and his ideas for how to continue to improve what we do are grown from his own experience as an artist within the company and also working externally across the sector. He is an accomplished and in-demand actor around Melbourne, sitting on the Green Room panel and performing across stage and screen. He brings with him a passion for collaboration and an understanding of the performing arts industry and what it takes to safely navigate and thrive in it as a POC artist.
"Western Edge is a space that welcomes without judgment, and constantly strives for representation. We are open to hearing young people's stories, open to their experiences. That's why this organisation is so important to me. I'm here to further the work that's already been done, to push representation forward and support Western Edge to continue to be a leading space for cultural safety, and amazing art". John Marc.
A new era for Western Edge
Together, the partnership will allow us to support and strengthen our performing arts programs and pathways for young First People's and POC artists into the industry, as well as expand our practice to include visual and public art, design, fashion and First People's culture and understanding.
They both have fresh ideas for the company and have already started bringing our artists together across the West to start dreaming up the future of Western Edge and how we can continue to centre the voices and vision of systemically challenged young people in all we do.
Both Robert and John Marc have already brought so much joy to our newly expanded team, and you'll be seeing much more of them in our rehearsal and practice rooms, around our new headquarters at The Substation, and across our social media channels.
Believe us when we say we are thrilled to have them on board, they are full of joy, laughter, warmth, wisdom and talent – and you don't want to miss out on the work they'll be bringing.
So follow us on Instagram and Facebook, and subscribe to our newsletter to make sure you stay up to date.